Below is a list of news items for the City of Moorhead with the most recent items at the top. If you would like to see news for a certain category, you can select it from the the drop-down box labeled (All Categories). Any news older than 90 days is automatically archived and removed from this list.
You can also subscribe to our eNotifications to automatically receive emails as we post news to the site.
Traffic Alert & Construction Update: SE Main|20 St|21 St Underpass Project
SE Main Ave from 21 St to Oakway, and 21 St from SE Main Ave to 2nd Ave S will be closing
Post Date:
09/13/2018 2:52 pm
Major road closure on the horizon:
While traffic impacts from the Underpass construction so far have caused some lane closures, the first major road closure will begin Monday, and will be in place for more than a year. Traffic will be detoured on 34 St S via 12 Ave S and Highway 10.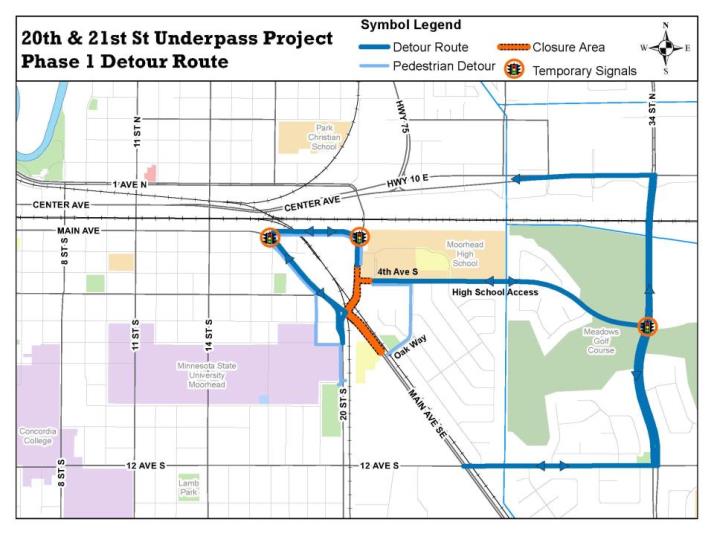 Other travel impacts as of Sept. 13, 2018:
4 Av closed – vehicles are encouraged to use Highway 10 and 12th Av as detours
22 St (Euclid) is closed
21 St closing Monday, Sept. 17
2 Av down to one lane, serving only as an entrance to the high school
Oakway and Birch Ln intersection has a temporary roundabout in place
1 and 12 Av a detour route will be activated Monday, Sept 17 with the road closures
Vehicles entering Moorhead High School parking lot should use the entrance on the east side of the school along 4 Av.
Please note that conditions and road closures may change with short notice. For the most up-to-date information, please register to receive direct e-mail updates. You may also check for information at http://cityofmoorhead.com/underpass.
To learn about other public construction projects in the City of Moorhead, visit the Current Projects Map at www.cityofmoorhead.com to read more about upcoming projects including maps, project scope, current status, and traffic impacts.
More >>