Below is a list of news items for the City of Moorhead with the most recent items at the top. If you would like to see news for a certain category, you can select it from the the drop-down box labeled (All Categories). Any news older than 90 days is automatically archived and removed from this list.
You can also subscribe to our eNotifications to automatically receive emails as we post news to the site.
CONSTRUCTION UPDATE: SE Main|20 St|21 St Underpass Project
Project is approximately 40% complete
Post Date:
07/02/2019 3:01 pm
Construction Progress Report:
• Project is approximately 40% complete as of June 30. Approximately 65% of the excavation is complete. Crews made significant progress during the overnight excavation period June 10 – 29. Overnight excavation is no longer taking place. A request for overnight construction in September is pending. As the date draws closer, we can better estimate the impact on the project completion date and will consult with the neighborhood.

• Pile driving is ongoing. Retaining wall foundations are underway and bridge abutments begin approximately July 9.

• Temporary "shoo-fly" tracks are operational while bridges are being built. The Ottertail Valley Railroad (OTVR) shoo-fly will be used until September when the permanent OTVR track is complete. The BNSF shoo-fly is expected to be used until November.


New Traffic Impacts:
• The intersection of 21 St & 2 Ave S will open to traffic this week. Reconstruction of 21 St between 1 and 2 Ave S will continue throughout July.
• The intersection of 20 St & 6 Ave S will close July 8 and is expected to reopen to traffic in August.

While the project is very interesting, the construction site is dangerous. Stay out of the work zone and keep children away.
Please note that conditions and road closures may change with short notice. For the most up-to-date information, please register to receive direct e-mail updates. You may also check for information at cityofmoorhead.com/underpass.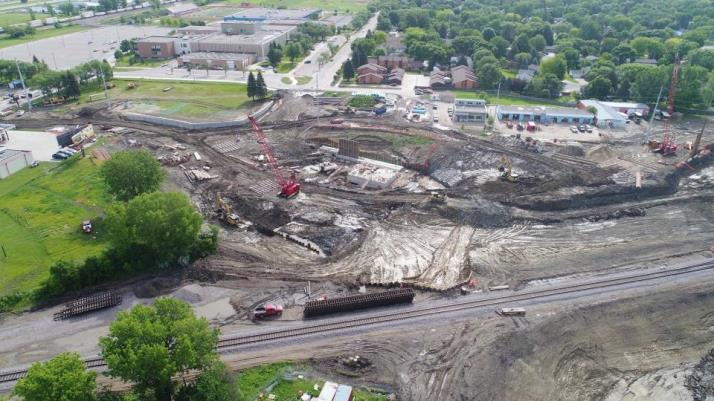 Photo courtesy of Gehrtz Construction
Lisa Bode, Governmental Affairs Director, 218.299.5372
More >>