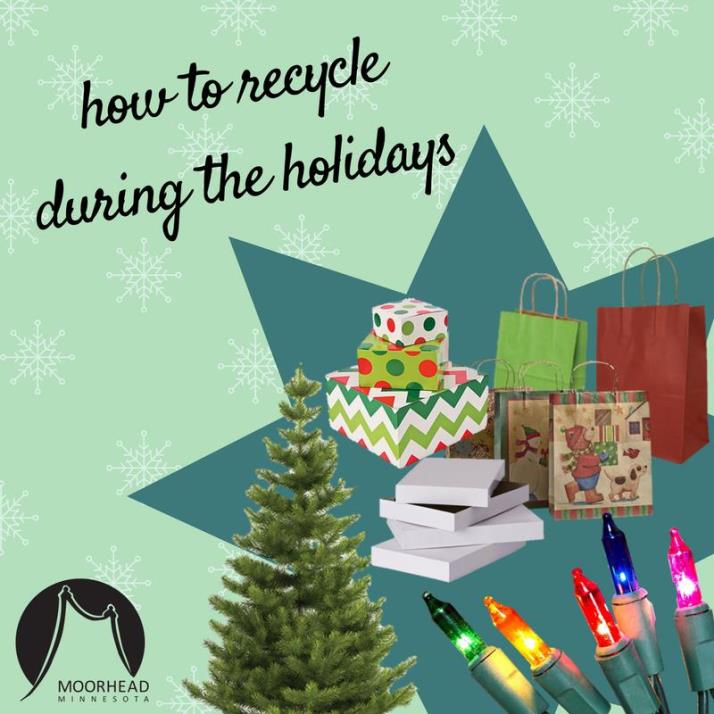 Each year, waste in the United States increases 25% between Thanksgiving and New Year's Day—about 1 million extra tons.

The City of Moorhead and Clay County offer special recycling opportunities for residents during the holiday season to help reduce waste going to the landfill. Remember to reduce, reuse and recycle.

Top items to recycle this holiday season in your curbside recycling cart:
− Gift boxes + paper gift bags
− Holiday cards + envelopes
− Cardboard (remove any Styrofoam before recycling)
− Aluminum + steel + tin cans
− Glass bottles + jars

After opening gifts, remember to remove the wrapping paper, bows and ribbons from the boxes, please flatten and recycle those white and brown boxboard and corrugated boxes.

The most common non-recyclables contaminating the recycling waste stream during the holiday season include bubble wrap, cellophane, string/rope, ribbons and bows, and Styrofoam and other forms of polystyrene foam.

Special collections:
− Christmas Tree curbside pickup from January 8-19, 2018
− Place trees 3-5 feet from garbage + recycling cart
− Please do not deposit on snow banks
− Remove plastic bags, lights, wood, and metal stands
− Holiday Lights
− Don't know what to do with those old or no longer-working strings of holiday lights?
Making the switch to energy efficient LED holiday lights? Either way, recycle the old lights
with us!
− All types of holiday lights are being collected at:

The City of Moorhead Transfer Station- 2727 Hwy 10 E
The Clay County Electronics Shed behind DMV(Open Tuesdays 4-6pm)- 1300 15th Ave N
Ace Hardware in Moorhead- 20 6th St S



Questions? Please call Public Works at 218-299-5422.