Below is a list of news items for the City of Moorhead with the most recent items at the top. If you would like to see news for a certain category, you can select it from the the drop-down box labeled (All Categories). Any news older than 90 days is automatically archived and removed from this list.
You can also subscribe to our eNotifications to automatically receive emails as we post news to the site.
Moorhead home owners may be eligible for special state property tax refund; 6,500 residences may qualify
Post Date:
07/21/2023 1:00 pm
Legislative changes to the Minnesota Property Tax Refund program may benefit many homeowners under a new special program. The standard property tax refund program features larger maximum refunds this year, and a special refund program provides refunds to homeowners whose property taxes increased at least 6 percent (12 percent increase was required to qualify in past years). There is no income limit for the special rebate program.
The City of Moorhead Assessor's Office estimates that 6,500 Moorhead residences may qualify for the special refund that did not in past years.
Homeowners and renters should file for a 2022 Minnesota Property Tax Refund before the August 15, 2023, deadline. If homeowners and renters did not file for their 2021 Minnesota Property Tax Refund last year, they can also still file before the August 15, 2023, deadline.
Here are some of the important changes this year:
Maximum refund for a renter has increased to $2,440
Maximum refund for a homeowner has increased to $3,140
If you have already filed your property tax refund, the State of Minnesota is updating its systems to automatically increase refunds on previously filed returns.
A homeowner or renter can receive a refund if property taxes went up more than 6% this year; income limit doesn't apply.
Information and tips:
Find out if you qualify for a property tax refund. Both renters and homeowners that meet certain requirements may be eligible. There are renter refunds (with income requirements) and two types of homeowner refunds: regular and "special" for homeowners who had a 6% or more property tax increase. Visit Minnesota Department of Revenue to see if you qualify, or type 'property tax refund' into the Search box on the Department of Revenue website.
Include the right information. Renters must include the Certificate of Rent Paid form issued by their landlord in January. Homeowners should make sure to use the information from their property tax statements issued by their county each spring.
Check out this short tax tip video about filing for your property tax refund.
Senior citizens in need of property tax relief may qualify for the Property Tax Deferral for Senior Citizens, which allows them to defer a portion of the property taxes they owe each year. Learn more about the Property Tax Deferral for Senior Citizens.
Information provided by revenue.state.mn.us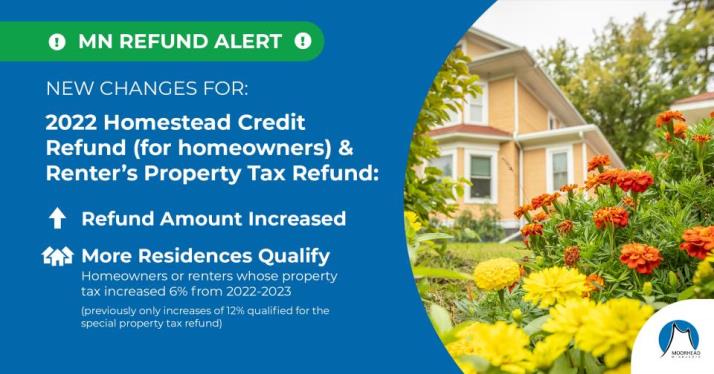 More >>