Earth Week Initiatives 2022
City Council Volunteering Events, City Sustainability, and Parks and Recreation Earth Week Initiatives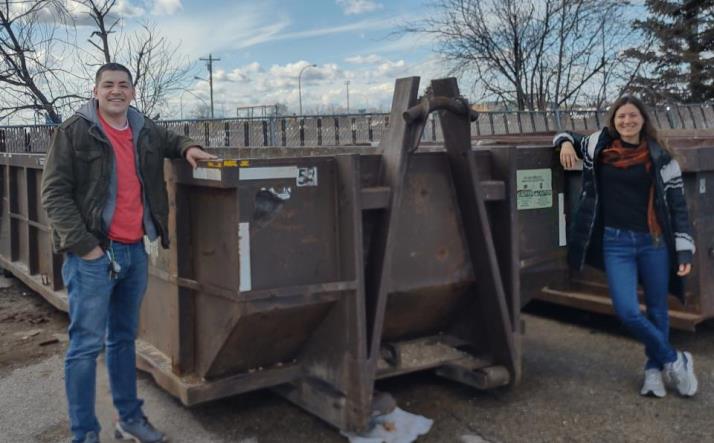 Please join City of Moorhead City Council members, the City of Moorhead Sustainability Coordinator, and City of Moorhead Forestry staff with picking up litter or helping with buckthorn removal to beautify and improve the health of our city! Let's see how much we can get out of our parks and into our roll-off! All are welcome to attend; but if you can, please email the Sustainability Coordinator with your desired date to help at crystal.rayamajhi@cityofmoorhead.com to help staff plan for numbers.
Sandwiches will be provided to volunteers; courtesy of the Resilient Moorhead organization!
The City of Moorhead City Council had volunteer events planned for Earth Week, but these were postponed due to the weather. Please see the updated schedule below:
Monday, May 2, 4-7 p.m.: Join City Council members Deb White and Larry Seljevold for buckthorn removal at Gooseberry Park. Pick up supplies at the Gooseberry small shelter on the south side of the entrance road. Please bring sturdy gloves for buckthorn removal. 100 22nd Ave S, Moorhead, MN 56560
Tuesday, May 3, 4-7 p.m.: Join City Council members Steve Lindaas and Matt Gilbertson for buckthorn removal, trash pickup, and food forest maintenance at M.B. Johnson Park. Pick up supplies at the small shelter. Please bring sturdy gloves for buckthorn removal. 3601 Oakport St N, Moorhead, MN 56560
Thursday, May 5, 4-7 p.m.: Join City Council members Heather Nesemeier and Laura Caroon for trash pick-up on the 20 Street Bike path and at Romkey Park. Meet at the Romkey Park Neighborhood Recreation Center for supplies. 800 19th St S, Moorhead, MN 56560
Friday, May 6, 4-7 p.m.: Join City Council members Chuck Hendrickson and Shelly Dahlquist for trash pickup of the 20 Street bike path and at Queens Park. Pick up bags and check out safety vests at Queens Park, 3201 20th St S, Moorhead, MN 56560
Cloth gloves, pickers, vests, and garbage bags will be provided. For buckthorn removal, please bring sturdy gloves if you have them for extra comfort! Some sturdier gloves will be provided, but supplies will be limited. Forestry staff will cut buckthorn ahead of the event, and volunteers will help drag buckthorn out of the woods for staff to collect the following day. Buckthorn is an invasive species that negatively impacts the health of our forests, so this effort will be beneficial to our local ecosystem! Please dress for the weather, and wear long sleeves for buckthorn removal.
If these events do not work for you, Parks and Recreation will be happy to help connect you to a volunteer opportunity that fits your schedule! See the Parks and Recreation website for more information. The Earth Week Restore Initiative is April 18-24, but there are Beautification Opportunities throughout the season.
Sign up for eNotifications from the City of Moorhead and choose "Service Alerts" and "News Releases" to receive an email reminder prior to Earth Week activities.
Questions?
Contact the Public Works Department at 218.299.5347 or email.