The calendar below shows all public meetings and City of Moorhead events across all departments and categories. You can click on an event to see more details on it. If you would like to see events for only a certain category or department, you can select it from one of the drop-down boxes below.
You can also subscribe to our eNotifications to automatically receive emails about new events on our calendar.
Moorhead Police Explorer First Nighter (Open House)
Recruitment and Informational Open House
The Moorhead Police Explorer program will hold a recruitment and informational open house at 6 p.m. Sunday, Sept. 16, at the Law Enforcement Center located at 911 11 St N in Moorhead.
For the past 14 years, the Moorhead Police Department has been preparing young men and woman for careers in law enforcement. Since re-establishment in 2004, the department has sponsored a Law Enforcement Explorer Post. The Explorer Post is designed for those interested in law enforcement between the ages of 15 and 21 years and are enrolled in at least the ninth grade in school.
Participants in this program meet weekly on Sundays throughout the 2018-2019 school year with members of the Moorhead Police Department and learn about topics and acquire the skills necessary to be successful in law enforcement. Some of these topics include: how to conduct traffic stops, respond to bomb threats, crime scene investigation and hostage negotiation.
The Moorhead Explorer Post has been the proud winner of many awards throughout the years, with their most recent victories of 5th place in Humility in Leadership, 3rd place in Extreme Ownership, and 2nd place in Mandt System De-Escalation at the 2017 competition. The Explorer Post competed against over 40 other explorer posts from across the state.
Many of those who have participated in this program have become police officers and have had successful careers. Those with a strong ambition to become a police officer or just a general interest in law enforcement are encouraged to join.
For more information about the program visit our Explorer Page or contact Officer Katie Schultz at 218.790.4256 or katie.schultz@moorheadpolice.com.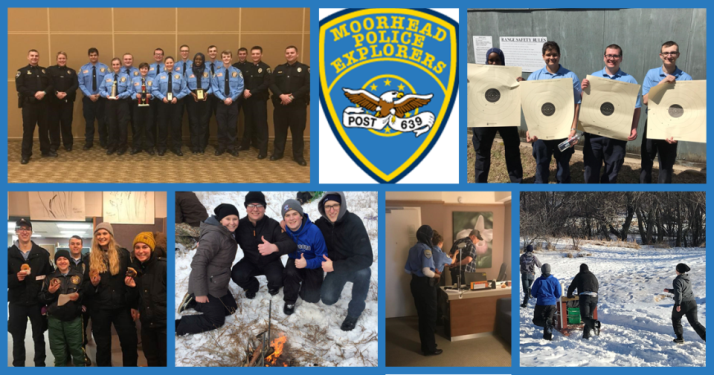 More >>