Below is a list of news items for the City of Moorhead with the most recent items at the top. If you would like to see news for a certain category, you can select it from the the drop-down box labeled (All Categories). Any news older than 90 days is automatically archived and removed from this list.
You can also subscribe to our eNotifications to automatically receive emails as we post news to the site.
Homicide Victim Identified
Post Date:
12/05/2022 12:28 pm
The preliminary autopsy results from the Ramsey County Medical Examiner's Office confirmed the identity of the December 1 homicide as Receia Kollie. The cause of death has been listed as "multiple sharp force injuries." The suspect in custody, James Kollie, Jr., is the victim's son.

The Moorhead Police Department is still asking for the public's assistance in looking for the victim's vehicle, a 2016 black Honda Pilot with MN plates HFE185. The suspect was located in Wahpeton, ND, on Friday, December 2. We ask those in that area to give attention to finding the vehicle and ask them to call local law enforcement if the vehicle is located.

Anyone who may have seen the suspect, James Kollie, Jr., between Tuesday, November 29, and Friday, December 2, is asked to call the Red River Regional Dispatch Center at 701.451.7660 and ask to speak to the on-duty Moorhead Police Supervisor. Photos showing what he was wearing are attached.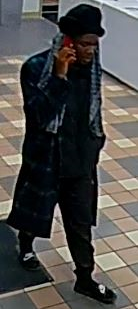 Captain Deric Swenson, 218.299.5186
More >>