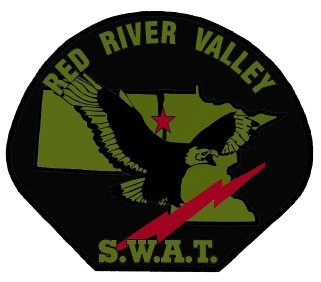 The purpose of the SWAT (Special Weapons and Tactics) team is to provide a highly trained unit of police personnel to respond to tactical and high-risk incidents. Red River Valley SWAT is a multi-jurisdictional team of professionals from:
City of Moorhead Police Department
Cass County Sheriff's Office
Clay County Sheriff's Office
City of Fargo Police Department
City of West Fargo Police Department
North Dakota State University Police Department
Red River Valley SWAT primarily responds to incidents in Cass and Clay counties, but is accessible to other jurisdictions through mutual aid when circumstances warrant.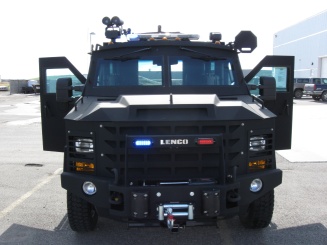 Tactical Operations Unit
The tactical operations unit, generally referred to as the "SWAT Team", is designed to:
Provide tactical support to other law enforcement agencies
Assist with executing high risk search warrants
Arrest warrants of dangerous subjects
Barricaded suspects
Building or rural searches for suspects or missing persons
Hostage situations or any incident in which there is an elevated danger to the public
Tactical unit members are highly trained and qualified in the use of special weapons and tactics to fulfill their missions. Members of this unit are selected through a highly competitive process that evaluates physical fitness, enhanced sense of safety, and ability to function effectively in a team environment.

The Police Department currently has six positions assigned to the Tactical Unit, which includes one supervisor.

SWAT Negotiations Unit
The negotiations unit is comprised of nine negotiators, including one Lieutenant who functions as the unit leader. Each negotiator has received training in advanced negotiation methods and is selected based on communication and listening skills. Every member is an experienced officer who brings professionalism and compassion to these roles. Training is conducted on a quarterly basis in conjunction with the tactical support members of the team.

The main purpose of the team is to provide a person that the suspect will see as a safe solution in a crisis. The goal is that by listening to the suspect, negotiators we can guide everyone involved out safely.

The Police Department currently has two members assigned to the negotiations unit.

Tactical Emergency Medical Service (TEMS)
Medical support is provided by a team of paramedics assigned to Red River Valley SWAT. Six paramedics, three from Sanford Hospital Life Flight and three from F-M Ambulance, work under the direction of an emergency physician from Sanford to provide Tactical Emergency Medical Support (TEMS). TEMS has been a part of the SWAT team since its inception.
TEMS responsibilities include injury control, preventive medicine, monitoring officer health during training and incidents and health maintenance. The medics train and deploy with the SWAT team and provide on-site medical support for law enforcement, suspects, hostages and bystanders in an unpredictable and sometimes hostile environment.

The medics have special training in many areas including:
Tactics
Building clearing
Firearms operations
Bullet wounds
Defensive tactics
Handcuffing and searching
Rappelling
K-9 medicine
Clandestine lab awareness.
TEMS is a tool used to help the SWAT team meet its law enforcement and public safety objectives.

Bomb Unit
The bomb unit is comprised of eight members. The Police Department currently has one member assigned. Members of the Bomb Unit are highly trained in the diffusion of explosive and incendiary devices. The bomb unit has two state-of-the-art robots that can be used in a variety of situations to provide support to all four units of SWAT.