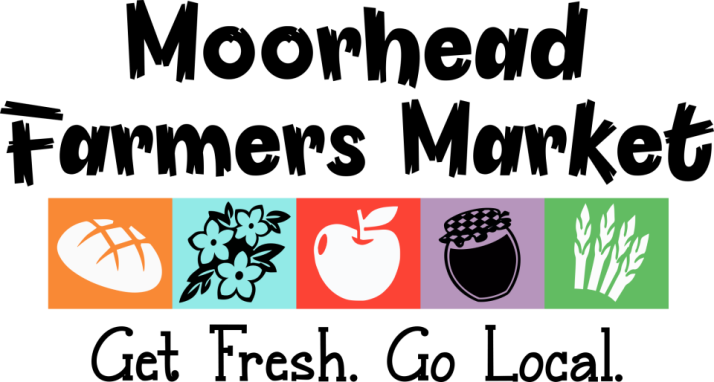 The Moorhead Farmers Market makes for a great place to Get Fresh and Go Local. Open on Tuesdays, June-September, the market offers vegetables, fruit, baked goods, honey, jams, jellies, pet products, hand-crafted items and more!
---
2023 Information
Tuesdays, June 6- September 26, 3-6 pm
Hjemkomst Center Parking Lot, 202 1st Ave N

---
Vendor Information


Vendor

Hometown
Products
Dates at Market

U of MN Master Gardeners

Moorhead

Garden seeds

May 31, June 7

Deb's Corner Foods
& Catering

Fargo

Spinach pie, Texas chips, cookies, pad thai salad, spreads

Full Season

Four Seasonings

Moorhead

BBQ sauce, salsas, lemon curd

Full Season

Copper Sun Creations

Moorhead

Handmade ceramic products

Full Season

Mutts Unleashed

Moorhead

Vegetables, herbs, baked goods, pet treats

Full Season

Bob's Woodworks

Fargo

Handmade wooden items

Full Season

Red River Refillery

Fargo

Refillable and sustainable items

Full Season

Whiskey Creek Gardens

Barnesville

Fresh-cut flower bouquets, vegetables

Full Season

Buddy's Gardens

Hawley
Produce, fruits, cottage foods, plants

Full Season

Moorhead Public Library

Moorhead
Book Truck, book-lending

Full Season

Kreps Family Farm

Moorhead
Jams, jellies, breads, mixes

Full Season

Becky's Treats

Moorhead

Gluten and dairy-free cookies, cakes, brownies

Full Season

Louie's Steelworks

Moorhead
Custom metal products

Full Season

Usana Health Sciences

Glyndon
Nutrition bars, shakes, supplements

Full Season

Bruders Butcher

Breckenridge
Meat cuts, sausages, jerky

Full Season

Rollings Hills Produce

Moorhead
Variety of produce items

mid July-September

Red River Garlic and Produce

Elbow Lake

Variety of produce items, jarred goods

August-September
Wenner's Sockeye Express

Moorhead
Sockeye salmon fillets

August-September

New Roots Farm

Moorhead

Variety of produce items

TBD

Prairie Rose Farm

Moorhead
Variety of produce items

TBD
Red River Harvest Cooperative

Moorhead
Online product-ordering

TBD

French Taste

Grand Forks

Sweet and savory crepes

TBD

Barry's Bees

Moorhead
Honey products

TBD

Making More than Custom

Moorhead

TBD

TBD
---
Thank you to all our partners who help support
the Moorhead Farmers Market!
American Crystal Sugar Company | Lemke Home Improvements
Essentia Health | First Presbyterian Church of Moorhead
Hunger Solutions | PartnerSHIP 4 Health
Minnesota Farmers' Market Association | Minnesota Grown
Family Nutrition Program | University of Minnesota Extension