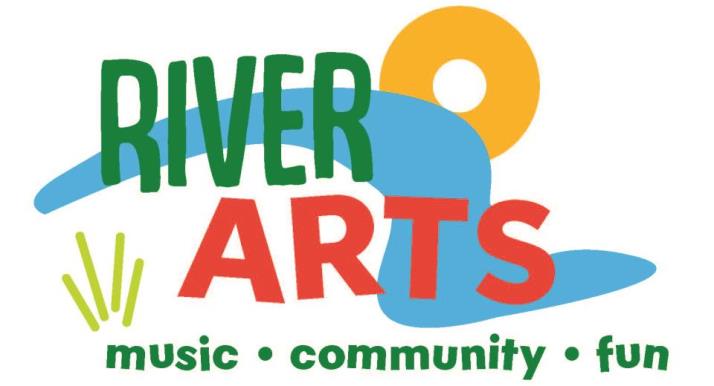 On five Tuesdays in the summer, Moorhead Parks and Recreation presents RiverArts. Join us for cultural performances, artist-led demonstrations and activities, inflatables, yard games, a photo station, imagination playground, interactive mural and more fun for everyone! Opening performances are 5:30-6 pm with headlining performances 6-8 pm. Memorial Park nights feature free carriage rides.
Bring a chair or blanket, enjoy the live music, and engage with community organizations and vendors! Purchase hot dogs, brats, soda and chips from the Moorhead Midday-Central Lions, and adult beverages from Fargo-Moorhead Community Theatre and Swing Barrel on varying evenings! Come enjoy the fun!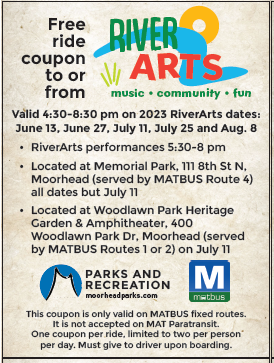 The City of Moorhead and Matbus have teamed up to offer rides to RiverArts in 2023. These coupons are available at the Parks and Recreation Office, 1300 15th Ave N, Moorhead City Hall and online. See the coupon for full details!


---
2023 Dates and Special Activities
June 13, 5:30-8 pm: Memorial Park




Post Traumatic
Funk Syndrome
+ Nordic Night

Nordic Culture Clubs sharing treats, info and selling tickets for Scandinavian Festival June 23-24!
Fargo Spelemannslag (Hardanger fiddle)
Art activity w/ not_hid_ (Dala horse vinyl stickers)

June 27, 5:30-8 pm: Memorial Park


Gina Powers Band
+ Petting Zoo

Heather & Thistle Pipes and Drums
Art activity w/ Christy Goulet (dreamcatchers)

July 11, 5:30-8 pm: Woodlawn Park Heritage Garden & Amphitheater


Heart&Soul
+ Barrel Car Rides

Fargo Folklorico (traditional Mexican dance)
Art activity w/ Baker Garden & Gifts (pollinator houses)

July 25, 5:30-8 pm: Memorial Park

Hiahli
+ Fishing Clinic

Buffalo River Singers & Dancers
Art activity w/ Amanda Frost (printmaking)

August 8, 5:30-8 pm: Memorial Park

Front Fenders
+ Dunk Tank

Chinese Heritage of Recreation and Dance
Art activity w/ Bridget Solsaa (tufting, punch needle)
Thanks to our wonderful partners and sponsors!
Fargo-Moorhead Convention and Visitors Bureau | Bell Bank
Affinity Plus Federal Credit Union | River Keepers | Pepsi
First International Bank & Trust | Radio FM Media
UCare | Games to Go | Dakota Carriage Co.
Fargo-Moorhead Community Theatre

Pull up a chair and enjoy the entertainment