License Your Animal
All dogs and cats over the age of 6 months must be licensed annually. You can license your pet online.
What Should I do if I Lose My Pet?
Call the area pounds

Moorhead's pound is the FM Animal Hospital - 218.236.9059
Fargo Pound - 701.232.7312
West Fargo's pound is the West Fargo Animal Hospital - 701.232.2898

KFGO AM will announce lost animals. Call 701.237.5346 or visit their website.
Put an ad in the newspaper or hang up flyers in local grocery stores.
Animal Control Rules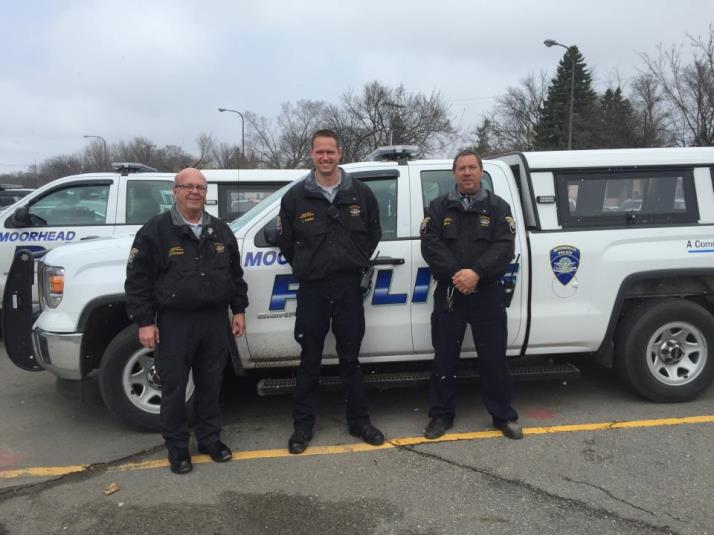 No one shall allow their animal off their property without it being leashed. (City Code Section 3-7-5)
All animals shall be provided with suitable sanitary housing with clean and proper food and water available at all times. (City Code Section 2-10-6)
All dogs and cats over 6 months of age must be licensed annually by no later than February 15 of each year. (City Code Section 3-7-2) Licensing your dog or cat is important and will help us locate you if your dog or cat is found. If you don't license your animal and it is found, a no license fee will be charged.
All animals found running at large may be apprehended and impounded by authorized City of Moorhead personnel. (City Code Section 3-7-6)

All animals will be impounded for at least 5 regular business days. At the end of the 5 day period, if no requests for animals have been filed with the City by any licensed institutions, all animals which remain unclaimed may be destroyed at the discretion of the City.
The animal's owner can reclaim the animal if they pay the impound fees.

Leashed pets are permitted in most city parks. Pets, whether leashed or unleashed, may not be brought onto the premises of: (City Code Section 6-1-4)

Mattson Field
Centennial Athletic Complex
Southside Regional Park – Pets are allowed only on walking paths.

Animal waste should not be allowed to accumulate in yards or elsewhere. No one shall allow their dog or cat to deposit animal waste in city parks, on public property or on anyone else's property. (City Code Section 3-7-9)
No one should keep an animal that habitually barks, cries, or howls as they are a public nuisance. (City Code Section 3-7-9)
Dangerous Dogs

Any dog within city limits may be designated as a dangerous dog if the dog has:

Without provocation, inflicted substantial bodily harm on a human being on public or private property;
Killed a domestic animal without provocation while off the owner's property; or
Been found to be potentially dangerous, and after the owner has notice that the dog is potentially dangerous, the dog aggressively bites, attacks, or endangers the safety of humans or domestic animals.

A Police Sergeant or officer of higher rank, shall have the authority to designate a dog as potentially dangerous or dangerous.
A dog designated as potentially dangerous must be leashed and be under the control of a competent adult at all times when off the owner's property. (City Code Section 3-7-13)

It shall be unlawful to keep, harbor, own, or in any way possess 4 or more dogs or 4 or more cats over 6 months of age upon or about the premises of any dwelling, or dwelling unit within the corporate limits of the city. A person may request a permit from the Police Department to keep, or harbor up to two dogs or two cats, but not both, as part of a qualified home used by organizations for rescue or sheltering of abandoned or lost animals. (City Code Section 3-7-4)
Related Regional Links
Cat's Cradle Shelter – Facebook Page