Police canines are an excellent locating tool, as they have a powerful sense of smell. Officers Fildes' duties include city-wide patrol functions. As part of the Police Department's commitment to community oriented policing, Officer Fildes also conducts public demonstrations with his canine team. He continuously trains his canine with other area canine teams to remain proficient in their canine duties. They must be certified annually through the Unites States Police Canine Association (USPCA), in the areas of patrol dog and narcotics detection.
Police canines are trained in the following areas:
Tracking
Building searches
Open area searches
Article of evidence searches
Suspect apprehensions
Narcotics detection
---
Police Officer Mike Fildes and K-9 Partner Argo
Officer Fildes has been a Police Officer since January of 2010, and became a canine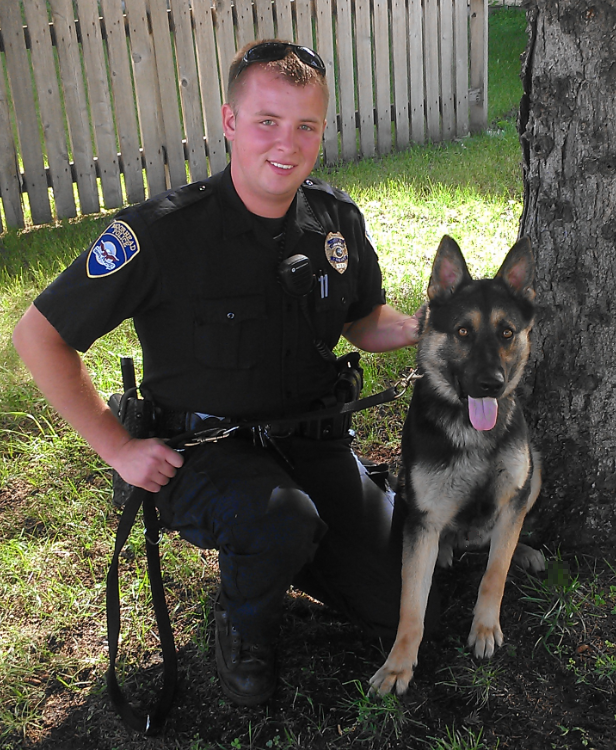 handler in January of 2013. He was partnered with his current canine partner Argo. He graduated from canine training in June of 2013 from Performance Kennels, Inc. in Buffalo, Minnesota. Argo is a German Shepherd dog from Slovakia.
Milo and Argo are the 9th and 10th canines deployed by the Police Department since 1986, when the canine program began.
---
Questions, Demonstrations and Donations
For more information regarding the K-9 Unit, to request a public demonstration, or to make a monetary donation to our canine unit, please contact canine supervisor, Lt Mike Detloff or call 218. 299.5203.